NOH OSHIMA BRIEF
The cover stories of our briefs published twice a year or so.
№ 11 cover story
 January 26, 2023
Welcome to our Three-Generation Noh
OSHIMA Teruhisa, Kita-ryu Shokubun
We thank to you all for coming to the Oshima Family Three-Generation Noh today. It is the second time for Oshima Family that the three performers in the same direct descent play shite in one program.
The last and first one was held in 1989, 34 years ago. That was when I played "Ebira" for my first time performing Noh at the age of thirteen. My grandfather Hisami had me practice strenuously for one whole year. I remember vividly the extraordinary exaltation after finishing the performance.
In June of the year before last, my father Masanobu played "Shunzei-Tadanori," saying "This would be my last." But several days after he finished that stage gracefully and all of us felt at ease, he uttered during a daily conversation of our family, "I feel lonely and a bit incomplete that Shunzei-Tadanori was at the end of my career." His words have caught me since then and I have made up my mind to adorn his conclusively final stage dignifiedly. Wondering which program to direct for my father, I came up with the old Three-Generation Noh more than thirty years ago. Yes, now is the time we can do that, and here we are.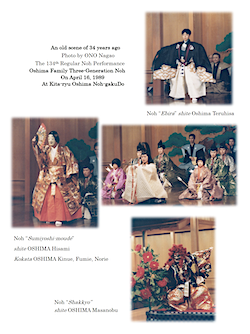 Today, on the first stage, my son Iori plays "Ebira," which I myself did last time. My father plays "Saigyo-zakura," which his father, my grandfather, did at that time. On the last stage, my sister Kinue and I play "Ninin-midare" in an uncommon version 'Tsubodashi.'
And as for Kyogen, Mr YAMAMOTO Tojiro, a living national treasure, with his company performs the famous "Hagi Daimyo," which made our stages more splendid and profound.
It may be rare to be able to play a three-generation Noh twice, from my grandfather down to my son. And this occasion is under various kinds of your support. We thank all of you heartily.