NOH OSHIMA BRIEF
The cover stories of our briefs published twice a year or so.
№ 10 cover story
 September 2022
A Letter from Marseilles, France
MURATA Yukuo, Japanese Consul General to Marseilles
Your performances impressed me indeed. I had never dreamed of watching real Noh during my administration, because of COVID-19 and others. But, the wonderful Noh performances on the real Noh stage, under the mid-autumn full moon, surrounded by the Japanese garden which was built with the help of Kumamoto Prefecture. It was my most emotional scene while I am in Marseilles.
And, thank you for your several souvenirs. The ogi, a Japanese fan, from Ms OSHIMA is decorated at the official residence. The book by Tanshu-sensei reminds me afresh of his wish. I met him 17 years ago. Now his son, Ryo'ich-sama, and his grandson, Yu'ich-sama, are taking over from him, which shows there is a way where there is a will. Well, I would like to help realize a traveling workshop and performances at Aix-en-Provence City in two years.
The Noh-gaku symposium by Ms MATALON Makiko as the coordinator had a great impact, with many Japanese and French researchers. That discussion will surely involve a lot of citizens having interest in Noh-gaku. Noh-loving people gather at Kano Shuho Memorial Noh-gaku Do not only within Aix-en-Provence but from all over Europe. It is not a dream, but will come true in two years!
I do wish your successful performances of this autumn, and I am looking forward to seeing you again.
Memoirs of Kita-ryu Performance Tour in Aix-en-Provence
ARIMATSU Yuri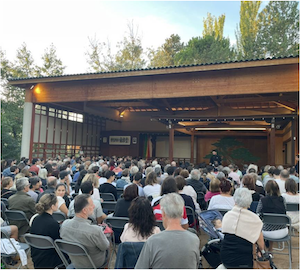 I appreciated the overseas performances for the first time. The response of the audience was wonderful. The popularity of Noh among them and their concentration on the stage surprised me.
Especially on the second day, not looking at some Japanese strange things, all of the people gazed and were drawn into Noh. I was able to sit at kensho, watching them. Thank you very much.
The photos of this tour are delighting me now. The workshop was nice, but my best experience was watching Noh on the Noh stage. If a real performance of Noh-gaku on the Noh stage can be held at Aix-en-Provence at this time every year regularly, Noh lovers will come here from all over France. The preparation and the fund would surely annoy us, but I do wish its possibility.
I sensed keenly immenseness of Noh and quivered. Without any understanding of language or history or background knowledge, I was able to feel the expression of the other world on this temporal stage, being convinced that Noh is the highest stage performing art of all.
I am very much grateful for the most valuable opportunity, which may change my view of life.
Note
OSHIMA Kinue
We made a Noh-gaku performing tour to Aix-en-Provence in France from September 5 to 12. After three-years' interval of our overseas performances, and after 7-years' interval of Noh performances on the Noh stage which the late Kano Shuho donated. So the people there welcomed us and the tour was very fruitful and satisfactory. Though the plan was tight, all of the 14 members returned home safely on schedule. We would like to express sincere gratitude to everyone who helped us on the tour and to the Noh fellows who accompanied us. (September 16, 2022)
№ 9 cover story
 June 2022
The Children Roles of "Gekkyuden"
OSHIMA Yasuko
The Noh pieces "Gekkyuden" (unknown composer) and "Fujito" (composed by Ze-ami) were played at the 270th Oshima Regular Performance (on April 17).
The luxurious Gekkyuden Palace during a peaceful era, a beautiful woman in a gorgeous dress, but she holds a deep sorrow and anger because her son was killed. Her powerful utai and Noh-bayashi moves me with sympathy. Composed 650 years ago, the Noh pieces have been carrying eternal themes. I cannot help but admire those composers 650 years ago, and those performers who have been taking over the art since then.
The Noh performances can sweep off the negative images these days: COVID-19, the invasion into Ukraine, rising prices and the shortage of electric power.
The regular performance this time was special for me. Two children of the crane and the tortoise dance Mai according to o-hayashi. They are rather difficult parts, and usually played by young Noh apprentices as a special occasion. On the Oshima performance record of Noh "Gekkyu-den," Kaoruko and Iori, both of them are my grandchildren, performed the crane and the tortoise 5 years ago, when they were junior and senior high school students. The four-time performances of the crane and tortoise at Oshima Family were all played by the sisters and brothers of about the same age.

But this time, the grandchildren of Kano Family in Kumamoto and of Oshima Family. Two children came and went to Fukuyama and Kumamoto all the way, and sometimes made up for the practice on PC. They played excellently, they were cute but noble. OSHIMA Kinue, who was their tutor, must have felt relieved and her fatigue dispelled.
At that night, I told to the Buddhist altar of Oshima Family that the stages were finished smoothly, when I felt like my father OSHIMA Hisami say, "Teruhisa, it's time for practice!" "Kinu-chan, Humi-chan, Non-chan. Practice!!" Dear Father, the young Noh pupils under your discipline all have followed your lessons and do their best.
№ 8 cover story
 December 2021
The Witch Lives on the Noh-Stage
HIRAMOTO Hiroko (Singer)
What kind of resonance the stage has is a big issue to a singer. It has a crucial effect on the performing effect for naked voices.
The western music began in churches, was brought up in the stone buildings, and now is mainly played in the concert halls. So, it is very important how to echo your sound (voice), which is also the interest of the audience. The opera, religious music, and vocal such as artistic songs are all non-microphone, super-analogue traditional culture, just like Noh-gaku.
In my young ages, I was groping for the vocal skill. But when I first visited Europe and uttered a voice in a building, I suddenly felt my eyes open, "This is it!" The sound waves of the dry comfortable voice in the stony buildings cannot be produced in the Japanese room made of tatami and shoji.
By the way, the people in Fukuyama are lucky because they have a famous music hall in Reed'en Rose, which was designed by a worldwide-known sound designer, Mr TOYOTA Yasuhisa.
After I studied German lied, played some roles in opera, and experienced the difference between the Western and the Eastern cultures, since just before fifty, I have chosen my way along the Japanese Lied for the rest of my life. Now I was invited to the 9th Fukuyama Nadokoro Concert "the Ashida River and the Myo'ou-in temple" as the Memorial Event of Fukuyama Castle 400th Birthday on October 30 at Oshima Noh-gaku Do, and was asked to sing some Japanese lied.
Well, what should I sing, I wondered, and chose six songs, along with "Kojo no Tsuki( The Moon above the Ruined Castle)." Among them, for the first time I dared to sing "Ko-omote Fantasy," word by TSURUOKA Chiyoko and music by HIRAI Kozaburo, which expresses an ardent feeling to his mask of a Ko-omote carver, and is fit for a Noh stage. The performance was accompanied with electronic piano by the pianist Ms YAMAOKA Tamayo.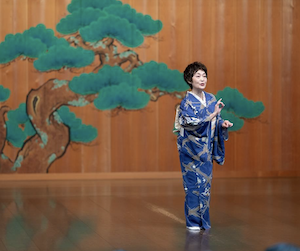 Actually, this was my second time to play on Oshima Noh-gaku Do stage.
Fifteen years ago, there was an open lecture of (late) Fukuyama Municipal Women's College, and the subject was the comparison and collaboration of "Japanese Noh-gaku" & "Western Vocal Music." My graceful OSHIMA Kinue played the boatman role and I played the deranged woman of the cantata "the Sumida River" composed by HIRAO Kishio. It was an exciting event, even now I remember.
At that time, however, singing on the Noh stage was tough to me, though the hall held me warmly. But now that I have become old enough and made up my posture toward Japanese lied much enough, things have changed totally. Or maybe I wore a kimono unusually this time.
After a long interval the stage welcomed me nobly. The center area of the stage was worn out to be bare wood, caused by "suriashi" thermal energy of the performers.
This is the stage worthy of releasing the Japanese language. As I began singing clearly word by word, then suddenly, a reliable witch appeared and led me. The Witch on the Noh-stage!
She was glacial fifteen years ago. Now she welcomed me with a smile, saying "Hello! This way." She smiled and helped me. The noble witch living in the Noh-gaku Do! I'm looking forward to seeing her in a different expression next time.
№ 7 cover story
 (May 2021)
My First Engagement with Noh Stage Design
TANOKURA Tetsuya (Sukiya Architect)
When I was a college student, I went to Awaji Island to build an outdoor Noh stage. It was a fresh but immature construction, where the Noh piece "Awaji" was played by a Noh performer from Tokyo. While I was designing it, I sent letters to the Oshima Family because Awaji-shima is near Hiroshima Prefecture, which became the beginning of our relationship.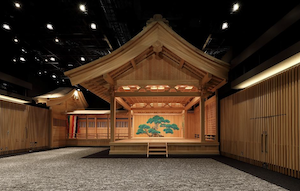 Fifteen years have passed since then, I have visited the Oshima Family in Fukuyama several times, and the Family nominated me for the designer of the indoor Noh stage of Okayama RSK San'yo Broadcasting Corporation. Little did I dream of such an opportunity.
Nohgaku-do Hall "tenjin9" is a Noh stage in the multipurpose hall located in the first floor of the broadcasting station. I hear the Noh stage is also used for the concerts and some exhibitions. "A Noh stage is a sacred place. Only a wedding ceremony could be held, my son and daughters, my husband and I around 50 years ago," OSHIMA Yasuko explained to the staff of RSK San'yo Broadcasting.
In designing a tea ceremony room in a house, some ask me to make it for only tea ceremony use and others wants to use it for a bedroom when they have a guest.
The hinoki-wood stage is completely clean, for they wear pure white socks and, some say, a mistake on the Noh stage compels you to do Harakiri. Anyway, to design a multipurpose Noh stage, there will be a big problem about its structure.
A Noh stage is sometimes estimated to be a musical instrument as a whole. The wonderful floor made of hinoki wood catches our eyes, however, the hinoki wall "kagami-ita" at the back of the stage is set up to reflect the sounds of hayashi-kata toward the front seats. The clay pot dug under the stage, like the ones under the temple bell or Kendo hall, moves Japanese people. Its effect, whether to echo or to absorb the sound, is not solved perfectly yet.
The main stage, a 5.4-meter-side square, is sustained with about 6-meter-long floor beams. No props are used in the middle. While thick wood columns are regularly placed for the floor of Kita Noh-gaku Do, Noh-gaku Do Hall tenjin9 has a style of crossed 40-cm-in-diameter pine tree logs. This is similar to the old style of the Noh stage at Itsukushima Shrine. Floating so much makes the floor bend and feels soft. Footsteps echo on the whole stage; the structure of the floor is just like taiko, a drum. Only those who stand on the stage can feel the thud, like a huge tree falling, resonance of the floor wood and the flexure, different from the hard flooring of a house. So, in using tenjin9 as a multipurpose hall, we have a special device to avoid the flexure by fastening the logs.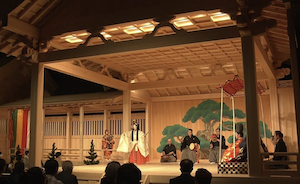 During the Edo Period, Machi-iri Noh, which even the public were allowed to watch, was performed to commemorate the festivities of shogun and clan lords. Kanjin Noh was also held, where the organizer gained money. There were some records showing that thousands of citizens came to enjoy the Noh. How is it now? People rarely see a Noh stage at the Noh-gaku Do, except for the Noh-gaku lovers. Often is a stage attached to a shrine covered with shutters. But, you can experience the power of festival at the Noh-gaku Do Hall tenjin9, even if you do not intend to watch Noh-gaku.
The Noh-gaku performance was held at the Noh-gaku Do Hall tenjin9 on September 20, for the first time after constructing it. The Noh piece "Seio-bo" by Kita-ryu Oshima Family. It is about the peach which blooms once in three thousand years. Thank you for the opportunity once in three thousand years.
№ 6 cover story
 (September 19, 2021)
Finishing the first OSHIMA TERUHISA NO KAI "Mochizuki"
OSHIMA Teruhisa
We held the Oshima Teruhisa no Kai on August 1 of this year. And, I would like to inform you of my having successfully performed the great piece "Mochizuki," at which I have aimed for a long time.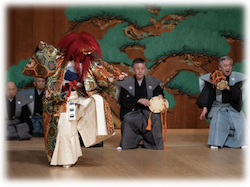 This meeting was originally planned to be held at the end of the last year but was put off for half a year because of the disease. We thought the COVID-19 situation would calm down in summer and set the performing day in August, but the number of the infected people rapidly increased just before the day and we had to just wait for the day unquietly.
"Mochizuki" is thought to be one of the Hikimono and I have longed for the piece since my apprentice days. Yet this one needs a kokata with some importance. So, without timely opportunity you cannot play the piece. When my son was born, I wished I could reach the skill to "Mochizuki" within the time when he plays kokata.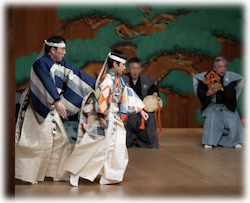 On the performing day, when the situation was uncertain because of the disease, many people gathered in the hall. I will never forget the scene I saw at the beginning of "Mochizuki," full of the audience, on the day. How much energy the performers are given from the enthusiasm of the audience, I really understood it.
We will be restricted somehow, caring about the changing situation. What we consider ordinary is not an ordinary thing. At a time I feel I'm dreaming a long nightmare, but in spite of these conditions I keep walking toward the next objective. I hope your sincere support.
№ 5 cover story
 (July 2021)
The Succession of the Art Skill
OSHIMA Yasuko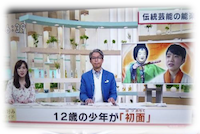 On May 16 of this year, my grandson successfully finished his Hatsu-omote on the stage of "Kagetsu" at Fukuyama Kita-kai Spring Exhibition. On that day NHK Hiroshima Branch reporters gathered materials and a few day later the program of about 20 minutes long was broadcast.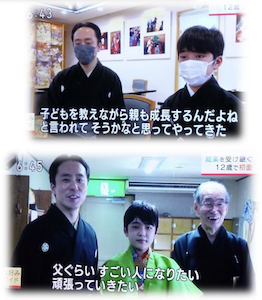 In the program there were some practice scenes of our family more than thirty years ago. My late father Hisami was about 72 years old, my husband 46, my son Teruhisa 11. The scene of the three generation was on the program. We, my husband and I, have become older than Hisami at that time. I feel glad to recognize that we are fulfilling our vocation to barely pass a Noh-heritage baton to the next generation.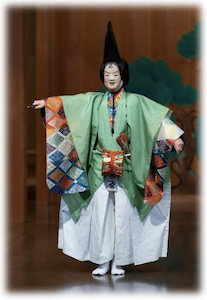 At the end of the program, I was surprised to hear Iori say, "I want to be a great Noh performer like my father." His father Teruhisa, who is my son, calls on us at Fukuyama every time there are stages of him, and talks to me on the phone or e-mail. He is still a son, a troublesome son to me. But Iori's word made me realize how much he is striving for his son's Noh practice.
Iori is now a junior-high student since this April and becoming taller and taller. And yet, he is still playing Kokata on some stages, because a few performances where he is to play Kokata are adjourned till this year due to the disease. Anyway, his grandma is happy to watch his Hatsu-omote stage ("Kagetsu") and to recognize him to try holding a Noh baton.
№ 4 cover story
 (June 2021)
The Classic French Theatrical Company Theatre du Soleil
OSHIMA Yasuko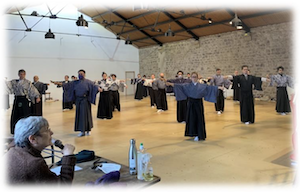 OSHIMA Kinue is appointed to the tutor of Noh mai and utai for the world-famous Theatre du Soleil. Because of COVID-19, her lessons have been continued on web-site. The legendary company is awarded "Kyoto Prize" and visits Japan to play "L'Ile D'Or (tentative title)" Tokyo Performances Ikebukuro Art Theater October 18 - 27, 2021 Kyoto Performances November 6 - 7, 2021
Would you please visit the PC web-site of "Theatre du Soleil" and its outstanding director Ariane Mnouchkine for more information?
№ 3 cover story
 (June 2021)
(Schedule List of 2021 and so on. Its English translation is omitted)
№ 2 cover story
 (May 2021)
Hatsu-Omote Reminds Me
OSHIMA Yasuko
About thirty years ago my son Teruhisa did 'Hatsu-omote'(performed with omote on the stage for the first time). After playing the piece, he was excited and kept on talking to me far into the night. Though I was exhausted with the backstage jobs, I remember responding to his every word. I still remember the scene and the deep relief vividly.
"Playing one Noh piece with Omote on makes him thrive on so much. He did well, he does well. He makes a Noh performer!" The troubles I felt until then blew off completely.
When he was at the age of two, I was told, "Do not let Teruhisa come into zashiki, he damage things. Do not let him in the training place!"
When he was in the elementary school, Hisami gave me a close order, "Do not let him go out till he finishes his practice!" Those were hard discipline days to the naughty son and his mother.
Now I understand that Hisami's word and deed derives from his obsession and enthusiasm for the dream to make his grandson a Noh performer.
OSHIMA Hisami passed away on February 3, 2004, just before his grandson Teruhisa's marriage. Even now though, he appears in our family conversation: "What would Grandpa do at this scene? Grandpa liked this, didn't he?"
Iori, Teruhisa's son, is growing up to love his Great-grandpa and Noh-men. But as a Kokata, he played so many times that once, only once, he mumbled to me, "Grandma, I'm not feeling like playing Noh." But soon he returned!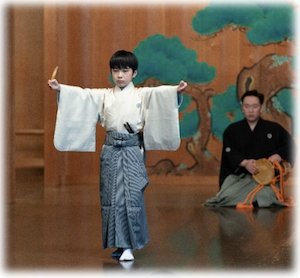 At Fukuyama Kita-kai Spring Exhibition on May 16, Iori plays Noh "Kagetsu" with his first Omote on. Sooner than usual, they may say, but we planned to do his Hatsu-omote at the Noh piece as early as we could because we wanted Mr IWASAKI Hisato, who had made the omote, to see Iori on the stage.
To give cheers to my grandchildren, we have been producing the records and albums of their performances. Every one of them are doing their very best. You can watch our grandchildren on our web site soon.
Oshima Noh Family are all grateful to be able to inherit the heritage of OSHIMA Hisami thanks to Oshima society and supporters, though we are in the trial and error phase against the disease.
We do hope your strong and sincere support.
№ 1 cover story
 (November 2020)
Entrusting My Hope to the Sails of "To-sen"
OSHIMA Yasuko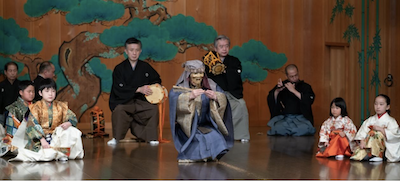 At one night in the end of October, my daughter Kinue hanged the four-colored cloth on the threshold of our training room. It is used on the stage of "To-sen." It has no extra wrinkles after 35-years' interval. My foster father must have folded it carefully and kept it back beautifully.
The cloth used to be my bridal dress, which was dyed four color, changed into the sails of "To-sen," and which had been watching my four children grow up. After thirty-five years, my grandchildren will be kept growing up by the cloth.
I wish much support by all of everyone.
After Performing "To-sen"
OSHIMA Masanobu
"To-sen" is thought to be one of the difficult work to play because four children show up on its stage. On September 21, 1986, my foster father OSHIMA Hisami played the Shite part of "To-sen" and my children, Kinue, Teruhisa, Fumie, and Norie were Kokata, at the 123rd Oshima Nohgaku Do Regular Performance.
This time, at the 265th Regular Performance, I played the shite part. As for Kokata part, my grandchildren Iori and Nanami, Mr OMURA Sadamu's grandson Minoru, and Mr KANO Ryoichi's niece Nao, played the role successfully. I felt so much relieved and satisfied.
OSHIMA Teruhisa
The Kokata children live apart: The children playing Chinese-kokata live in Kanto region, one of Japanese-kokata live in Fukuyama and the other live in Kumamoto. The way of practicing the roles was a big problem. The four children gathered together on the day before the performance. But they had practiced very well. They had learned those long utai, they were able to sit down calmly on the stage for a long time. They did very well.