Noh Oshima Bulletin
The cover stories of our bulletins published twice a year.
№34 cover story
 (2016/09/15)
My First Performance on Stage
OSHIMA Teruhisa
 A Noh performer plays a special Noh piece at certain passing points of lifetime, one of which is "Hatsu-Noh." 'Hatsu' means 'the first.' I performed my Hatsu-Noh, which was "Ebira," on the stage named "Oshima Three-Generation Noh Performance." It was the first in my performing career of Noh-gaku. At the age of twelve, I was too old to play the role of a child, but OSHIMA Hisami, my grandfather, must have tried to tie me to Noh.
  "Ebira" has so many patterns to form that it is rather difficult to perform for the first time on stage. Perhaps it was also a hard job for my grandpa as an instructor. As the performing day was approaching, the one-to-one training became more and more strict. Grandpa took every part of my body from one to another move. I practiced through the piece; and if he threw the bamboo stick to me, which he used instead of a wooden sword for coaching, that was the sign to start all over again. How I wished the stick never came flying, but mostly it was in vain.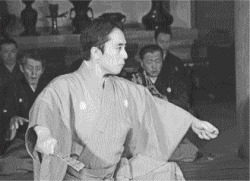 I have no memory of that stage, except for that there were full of people at 'Kensho,' the masters' place. I only remember that I felt so excited that I could not fall asleep easily that night, and that my first stage taught me how important and special the role 'shite' is.
 On December 23 of this year, we hold the thirteenth Memorial Noh Performance of my grandfather. My sister Kinue performs "Dojoji," which I myself did at the seventh Memorial Performance six years ago. The piece eventually compels its performer to endure some sort of pressure. I am sure she does successfully.
 My son Iori performs his Hatsu-noh "Tsunemasa" on this occasion. He is eight years old, much younger than I myself was. But since I told him to do so, I also have to fulfil my responsibility as an instructor. That will be my service for my grandfather. Just like 28 years ago, but turning the table, I will be happy to throw my bamboo stick to my son.
№33 cover story
 (2016/04/15)
A Single Time in the Life
OSHIMA Masanobu
  The Noh "Dojo-ji" is one of the largest and the most difficult among the works performed nowadays and is dealt as a highly ranked one. The contrast between calm and violent actions is sharp, which requires its performer to show his physical and mental strength, besides the skills. That is why the work is considered as an examination to be a full-fledged Noh performer.
  Forty five years have passed since I myself performed "Dojo-ji." That was on the opening day of our Noh building, on September 24, 1971. The Oshima Noh-gaku Do was built with a choice 'kiso-hinoki' wood. But due to the delay of the construction, the tatami mats were brought in on the very opening day. The day's program began at ten o'clock: "Okina" by Mr GOTO Tokuzo, Noh "Shiro-tamura" by Mr KITA Minoru, Noh "Miwa Kami-asobi" by OSHIMA Hisami, Noh "Shojo Midare" by Mr KITA Nagayo. And from 4 o'clock in the afternoon, I performed "Dojo-ji" as the Ancestry Invitation of the Oshima Family. The 15th KITA Minoru served as the guardianship; my father OSHIMA Hisami was in the charge of the bell; hue by Mr TERAI Masakazu, kotuzumi by Mr KAMEI Shun'ichi, Otuzumi by Mr KAMEI Tadao, Taiko by Mr KANZE Motonobu, Waki by Mr EZAKI Kinjiro, Noriki by Mr SHIGEYAMA Sengoro (the 4th Sensaku) and Mr SHIGEYAMA Masayoshi (the 13th Sengoro). I was able to accomplish the examination by the help of the brilliant people of Noh-gaku.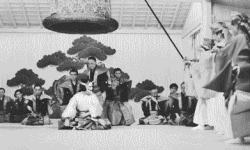 The pulley on the ceiling of a Noh-gaku do is not used at any other works. My son Teruhisa performed the work on the stage of Kita Noh-gaku Do in Tokyo, so the pulley at our Noh-gaku do has never been used since 45 years ago.
  The 13th Memorial Noh Performance of Hisami, who passed away on February 3, 2004, will be held on December 23 of this year. On this day, my eldest daughter Kinue performs "Dojo-ji" at our Noh-gaku Do. She has been practicing for the stage to make the most of the opportunity, along with the bell and the pulley. Their last user wishes everything goes successfully.
№32 cover story
 (2015/09/20)
The New Noh "Fukuyama"
OSHIMA Kinue
  In honor of the 100th anniversary of Fukuyama being organized as a municipality, we are planning to perform a brand-new Noh piece "Fukuyama" on July 16 next year. An executive committee has been launched to prepare for it, with whole-hearted support of Fukuyama City, its business community and those concerning education.
  About 400 years ago, the first lord MIZUNO Katsunari built Fukuyama Castle and a town by reclamation of the sea, which became the city of Fukuyama. Lord Katsunari enjoyed the Kita-ryu Noh-gaku; a record shows that he himself performed "Yashima," which represents a full activity of MINAMOTO-no-Yoshitsune. Lord Katsunari has an excellent reputation as a feudal lord with both literary and military arts, who enjoyed and encouraged other various arts except for Noh-gaku. Lord Katsunari named this place "Fukuyama" meaning 'full of fortune,' the intention of what we have to inherit and we would like to express through this new piece.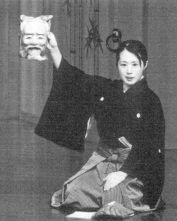 Noh "Fukuyama" has another character, an epoch-making hero, ABE Masahiro. At the end of Edo era, Lord Masahiro, the feudal lord of Fukuyama clan, became the prime minister of the Tokugawa Shogunate and did his utmost to break the impasse of the diplomatic and domestic alternatives. With a strong belief that bringing up able people create a bright future, Lord Masahiro devoted himself to education. The clan school, now 'Fukuyama Seishikan Senior High school,' has been turning out a lot of competent youths. My great-grandfather Jutaro the Second of the Oshima Family and my grandfather Hisami the Third are also its alumni. Lord Masahiro's enthusiasm about education must be felt in our new Noh piece.
  The first Noh dealing with things on Fukuyama is "Tomo-no-ura" made by Jutaro the Second. It was first performed in 1917, about a hundred years ago. And the second Fukuyama-related piece "Tomo no Muro-no-ki" made by HOASHI Masanori, choreographed by my father OSHIMA Masanobu was first performed at National Noh-gaku Do in 2002, then a few times in Fukuyama.
  This third piece treating the city Fukuyama will be a festive one celebrating our changing city, following the wishes of Lord Katsunari and Lord Masahiro. We are now striving for a still more satisfactory performance till the very opening day, so that the piece be loved for a longer time. I hope all of you will appreciate our new Noh piece "Fukuyama."
№31 cover story
 (2015/04/15)
Succession to the Next Generation
OSHIMA Teruhisa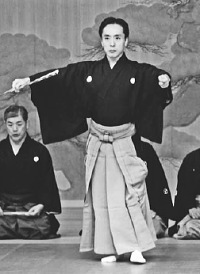 Thankfully I was designated as the holder of Important Intangible Cultural Property by the Ministry of Education, Culture, Sports, Science and Technology last year. As I happen to belong to the Valley Generation of Kita School, there are very few people of my age. And not many juniors to me joined the school, so I was compelled to practice at the bottom for around ten years of my apprenticeship. Meanwhile I must have fallen into a habit of reliance on my seniors because it was easy to ask them. The designation of this time, however, makes me change my way of thinking fundamentally.
 Actually, my position has been gradually transformed by the increasing juniors; even my two children have reached the age old enough to get on stage. It is challenging but demands much more effort. Children are tense and have an enormous energy in them, but since Noh is an art full of restrictions, I have to push them into it. While performing utai and mai together, I need to surpass them in eagerness.
 That reminds me of my grandfather, Hisami. He was so energetic that even late in the evening, when he got back from teaching pupils, he would tell me to practice before having dinner. I could not but follow him though I said to myself "At this time of the day?" He was over seventy then and his drive was overwhelming.
 There is no correct way of teaching, I think, and the teachers and trainers have to keep going on, wondering if it is appropriate, and getting more failures and a few successes.
 Yet one thing essential to the instructors is the very enthusiasm. I do realize that what has kept me going on is the enthusiastic instruction by Hisami, which occurs to me now that I began giving lessons to my next generation.